First I wanna give a big shout out and THANK YOU to Bridget at Literacy Without Worksheets. Apparently, my good luck has not worn off… I won a $25 TPT gift card in her giveaway! YAHOO!!!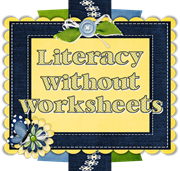 That totally made my day on Monday! 🙂 Now to go through my wishlist and see what I will buy!! Decisions, decisions…
Sorry I've been MIA … (at least I feel like I have… I've hardly read any blogs, much less posted!) We had parent conferences on Monday and Tuesday. In my district, we have Early Release so that we can meet with the parents both afternoons. The kids leave at 12:15 and we stay for the parents to come in- I stayed until 4:15 Monday which wasn't bad, but last night I was there til about 6:30. It beats staying that late for several days though!!!
As promised last week, I wanted to give you a peek into my Reader's Workshop. This is the first year I have not had a really long Language Block. I actually really don't like that I don't have a long block, but nothing I can do to change it! So I have 55 minutes before lunch for Reading Workshop, and an hour and 5 minutes after lunch for Writing and Grammar. (Killer right??)
I have to use my time VERY wisely due to the little time I have and the kids that seem to be revolving in and out of my room for various services. Because I have a few kids that leave at 10:30 (the beginning of my Reading Workshop), I do not start off with a whole group mini-lesson. I know, it seems wacky… but it still works. They have their independent reading time for the first 30 minutes, which is also the time I pull groups, which is also the time they are completing a 10 minute reading skill… confused enough? 😛
I pull two groups per day during that 30 minute window. If they aren't with me, they are either reading independently or completing one of the "stations." The stations consist of one 10 minute skill. They can choose to either read first, and then do the station, or do the station and then read. I let them decide because it gives them ownership over their work. They must have all 4 stations done by the end of 5 days (so that gives them a little extra time to read one day, too).
Reading Comprehension is either a reading passage with 4-5 questions, or a graphic organizer we've learned how to use that they can fill in with their independent reading book. It just really depends on what skill we're focusing on. Reading Response is where they write about their independent reading book using their thick questions as cues (thanks to Beth Newingham!), or a question that I give them to respond to about our read-aloud book. Again, it depends on what we're doing. 🙂 Word Work currently is spelling with Boggle. Sometimes though, it's a quick Greek and Latin Root activity using the current root we're learning. And then there's games. I shared with you in a previous post the Florida Center for Reading Research website. I have gotten all my games from there! It has taken some time to make them all of course, but it's worth it and the kids enjoy them. They also get in some Accelerated Reader tests in that time when they've signed up with me.
My kids love their independent reading time because they get to read in their book nooks.
Each week, their clip moves to a new book nook. They sometimes are at their desk, or on the floor, but then they get special "nooks" when they aren't in those places: different chairs, pillows, a big float (since I have the ocean theme) and my personal favorite, under the umbrella in the green chair (see below on the left). They have "browsing boxes" that they carry with them to their book nooks so they have everything they need right at their fingertips (no roaming the room!).
This is my class library that I've been talking up so much… see those two sets of shelves on the left?
Yup, I made them. Awesome, right? 😛 They were originally made to be bookbag cubbies because my first year teaching, I didn't have hooks in my room. These suckers have lasted for a long time, even after being moved from classroom to classroom and school to school! I have stacked them on top of each other before, but I prefer them like this because they fit perfectly under the bulletin board so it saves my wall space. My book collection *might* be a bit on the hoarding side, but I just love books so much. Some of the books in my library are books from when I was younger, books from my younger brother and sister, books that I've purchased, and then gotta love Scholastic Book Points! The books are leveled by F&P (what my school uses) so they can access their instructional level easily.
So finally, after those 30 minutes are up (sometimes 40 because we all know how hard it is to keep groups at 15 minutes on the nose), they add their reading to their reading logs, and then I do my whole group lesson. My kids are all in the room at this time. I like to use extended texts to cover reading skills, but then I still LOVE my picture book weeks! I use one picture book for a few days, or with extended texts we read a chapter a day and do skills each day that go with that chapter. The kids really get invested in the chapter books, too! When we take our Accelerated Reader Tests at the end of the unit, they all pass! It makes me so proud. 🙂
So how does your Reader's Workshop look? I'd love for you to link up so we can see! 🙂 I think I'd actually like to start a regular Wednesday Linky Party called Workshop Wednesdays, where we share things we do in our various workshop-style teaching. What do you think?
Please grab this button and link back here! 🙂
document.write('