This week, we are sharing about two of our bloggy friends! I am excited to share about two of my Best Bloggy Buddies, although it was super hard to choose! I have made so many friends, so I want to talk about two that I haven't mentioned recently on my blog…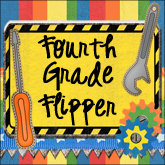 Holly at Fourth Grade Flipper is an absolutely phenomenal teacher, friend, blogger, and supporter! She is a fellow fourthie, and I just love her ideas and her products!! If you don't already follow her, you definitely should! 🙂 She also has an awesome weekly linky party where you can share anything you have tried- visit her tomorrow and link up!
My next BBB I want you to get to know is Theresa at Pinkadots Elementary!
She is also a fellow fourthie! She has fabulous ideas and is a great friend to email and chat! 🙂 She has some great products! 🙂 My favorite is her 20 Weeks of Language Arts Weekly Review! I used it for test prep and it was perfect!
She has a great linky right now as well- New Year, New Gear! I wanted to take the time to link up now, and you should, too! 🙂
I am also going to be a linky junkie and add another one of my BBBs' linky parties- Sabra from Teaching With a Touch of Twang. 🙂
Here are some of my school supply MUST-HAVES for my students!
A big part of interactive note-taking is color coding- and crayons are RIDICULOUS to try to write normally with, so I make mine use colored pencils…which also leads to requiring them to have a hand-held sharpener.
We are not taking a million trips to the pencil sharpener!! 🙂